Friday 20 November 2015 05.56 EST
The most traumatising time of Lisa Jones's life began when she agonised for months over the true identity of her boyfriend. They had been together for six years and she loved him "totally, completely, more than anyone".
"He was the closest person in the world to me," she says. "The person who knew me better than anybody else. I thought I knew him better than anyone else knew him." But she had begun to suspect that he was lying about who he really was.
This is the first interview "Lisa", who wants to retain her anonymity, has given to the media. Only now, five years later, does she feel ready to describe how she has been devastated by the deception. She speaks eloquently, though the pain is still evident. Her boyfriend, Mark, always had a slightly mysterious side to him. In their last few months together his behaviour was, at times, erratic; but at other times, their relationship was blissful.
In what she describes as a "constant see-saw from one state to another", she oscillated between "desperately, desperately" wanting to believe the story he had told her about himself, and wondering whether he had completely deceived her about a fundamental part of his life.
Reduced to a "very fragile" state, she struggled with her dilemma: "Am I fighting to save this relationship or am I trying to figure out who he is? I am either putting my energies into this relationship or I am investigating him – I can't do both."
The truth was not disclosed to her by him. Instead she and her friends found out through their own detective work and a chance discovery.
They established that he was Mark Kennedy, an undercover policeman who had been sent to spy on her circle of activist friends. For seven years, he had adopted a fake persona to infiltrate environmental groups. Their unmasking of him five years ago kickstarted a chain of events that has exposed one of the state's most deeply concealed secrets.
Back then, the public knew little about a covert operation that had been running since 1968. Only a limited number of senior police officers knew about it. Kennedy was one of more than 100 undercover officers who, over the previous four decades, had transformed themselves into fake campaigners for years at a time, assimilating themselves into political groups and hoovering up information about protests that they had helped to organise.
More than 10 women have discovered that they had relationships with undercover policemen, some lasting years, without being told their true identity.
On Friday it was announced that police had agreed to give a full apology and pay compensation to Lisa and six other women for the trauma they suffered after being deceived into forming intimate relationships with police spies.
Lisa, for her part, welcomed the apology. But it comes more than a decade after Kennedy's mission began. "No amount of money or 'sorry' will make up for the lack of answers about the extent to which I was spied upon in every aspect of my most personal and intimate moments," she says.
Kennedy first infiltrated a group of environmental campaigners in Nottingham in 2003. The fake persona he chose was that of a long-haired, tattooed professional climber by the name of Mark Stone. Among campaigners, he earned the nickname "Flash" as he always seemed to have a lot of money.
In the autumn of 2003, Lisa met Kennedy when he visited Leeds, where she was living. Then in her early 30s, she had for some years been active in environmental, anti-capitalist, and anti-nuclear campaigns. Her first impressions were that he was "very charming, very friendly and familiar in a way that was quite disarming".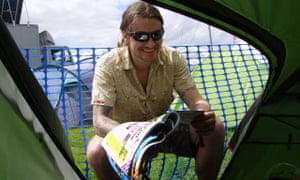 Kennedy had a number of sexual relationships while undercover. The longest was with Lisa. "During his deployment, he spent more time with me than anybody else, and probably more time than everyone else together," she says. He "slotted very easily" into her group of friends, who went climbing in their spare time. He got to know her family. When her father died, Kennedy was in the mourners' car with her. "He was the one who held me as I cried through the night, and helped me pick myself up again after that," Lisa says.
He would go away every few weeks – the longest time was three months – working, but kept in regular contact through phone calls, emails and texts. They went abroad together, sometimes just the two of them, cycling or climbing, and sometimes for protests. Over time, he gained a reputation as a committed environmental activist. But secretly, he was passing back to his police handlers information about the protesters and their political activities.
His covert mission was terminated in October 2009 when he was summoned by his handlers to a meeting at an anonymous truckstop. That month, he disappeared abruptly from his house in Nottingham. In the weeks before his disappearance, he had been agitated and distant with his friends. Lisa recalls: "He had quite an emotional crash, it seems. Some days he would not get out of bed – that was very, very out of character. He was usually quite bright and chirpy, an early riser type, an energetic person, but he was upset quite a lot of the time. I would comfort him. It really felt to me that I was seeing him through a difficult time, and a breakdown. He leant on me very heavily."
He appeared to be very paranoid. The police had raided his house after he was arrested at a protest, and he said he was worried they were delving into his background and income. He said he needed a break and was going to go to the US to stay with his brother for a while. Lisa says that the day before he flew, he "was behaving very, very strangely", claiming that he was being followed.
"When he went, I was really, really worried about his sanity. I thought he had properly lost it. I kept saying to him that this looks to me as if you are not coming back. He had sold his car, apparently left his job and half-cleared out his house. The other half I had to do."
In January 2010, he mysteriously reappeared. What Lisa and the other campaigners did not know at that time was that Kennedy was quitting the police to avoid being assigned to a humdrum desk job. But he had not discarded his fictional persona of "Mark Stone", and continued to be involved in political campaigns. He has admitted that he was employed by a clandestine private security firm that was paid by commercial firms to monitor protesters.
To Lisa, however, he was "different, volatile, up and down a lot of the time. Obviously he was being much less supervised, much less directed, and I just don't think he knew what he was doing at that time. He was rudderless. I was still so bruised from him losing his marbles and disappearing that I was in some ways waiting for an explanation, somehow trying to figure out what was going on with him, and whether he was alright.
"I always knew that Mark had a slight air of mystery. I knew there was something that one day he might open up about – something that had happened."
The key discovery that eventually led to Kennedy's exposure was made by Lisa when the two of them were on holiday in a van in July 2010.
"We were having this really blissful holiday in Italy. We were up in the mountains, just the two of us. He had gone off for a cycle ride, and I was looking in the glove box for some sunglasses. I guess that there was maybe a bit of me that was a little unsure about what was going on with him. I was rooting around and I saw his passport."
The old passport was in the unfamiliar name of Mark Kennedy. But there was something even more chilling in there: "The thing that made my stomach come into my mouth was seeing that he had a child. The character of Mark Stone wasn't one that would have had a child. That's such a big thing to have happened, and to have known somebody that long and have them not mention that they had a child, that's enormous."
She found a mobile phone that he did not seem to use much, and found emails from two children, calling him dad. "I did not know what to think. I remember feeling that the world was suddenly a really long way away. I just remember that the mountains were pulsating and swimming around me."
It was the first time she considered that he might be an undercover cop, but quickly dismissed it as something she thought only existed in films. When Kennedy came back from his cycle ride, "I really did not know what to say to him. I was terrified about what the answer would be, and what it would mean. I just did not say anything for about two days. He knew there was something wrong. He was trying to be very nice to me and figure out what was upsetting me. I did not sleep. He slept and I paced. I remember watching the sunrise and being sick."
She confronted him in a bar on what was his real birthday. She demanded to know about his son. "He visibly crumpled. He said, 'I can tell you, but not here', and we went off."
Back in their van, he recounted a story it seems he had tucked away for years, to be used if his fictional persona was ever challenged. He said he had been a drug runner, that his close associate had been shot in front of him, and that he had promised to look after the dead man's children, who had come to think Kennedy was their real father.
"I was desperate for an explanation that sounded plausible. Fantastical as it now sounds in the retelling, one of the reasons it seemed plausible was the amount of emotion that poured out of him when he told me," Lisa says. It seemed as if he had finally opened up, after all the hints of a dodgy past.
"I held him as he cried for about eight hours, through the night. We sat up and talked. He cried and I cried. It felt like we had really shared something, so I really did not analyse the facts at that point particularly strongly."
But for the rest of the summer, she had nagging feelings that his story did not add up. She challenged him but he always had an answer. She swung between believing their relationship was "better than ever, and thinking something still is not right".
In September, they had another happy holiday in Italy. "I was floating on air when we came back." A week later, she was visiting a friend who was, by chance, doing ancestry research online. She did not know what came over her, but she asked the friend to look up Mark Stone's birth certificate. Nothing came back.
With her friends' help, she started to dig into his life. She still could not believe he was a policeman, thinking: "He has been with me for so long – there's absolutely no way they would put a cop in for that long."
She yearned to find some new piece of information that would provide an explanation and clear her suspicions about him. For a few weeks, she went about her life, talking regularly on the phone to Kennedy but feeling she was "in this little bubble where nothing was real". Eventually they found a birth certificate for Kennedy's son, which recorded Kennedy's occupation as being a police officer.
Now she wanted him to explain. He was pretending to be in the US, but she had found out that he was actually in Ireland with his children and estranged wife. At her insistence, he returned late one night to a house in Nottingham, where she and a group of friends began to question him.
For what felt like hours, he refused to admit anything. Then one of the group asked him directly when he had joined the police. He confessed, and later cried. The others left Lisa alone with him. She was shocked. "I wanted him to stay. I knew that the moment he left, the whole world was going to change. I was just trying to delay the moment."
Kennedy went on to sell his story to the media and to work for a US security firm after he was unmasked in October 2010. Lisa set about trying to put her life back together. Her experience with Kennedy "made her feel very small", but the other women in the legal action have been a valuable source of support.
Lisa, who comes across as warm-hearted and thoughtful, rejects suggestions that she could have unmasked Kennedy earlier or that his deception was no different from those of many other cheating husbands.
The difference, she says, is that his deception was supported by the resources of the state. Undercover officers who infiltrated political groups were issued with fake documents, such as passports, driving licences and bank records that would help to fortify their fabricated alter egos. "I had no chance of seeing through that kind of training and infrastructure."
But he was rumbled, she points out, after he quit the police and no longer had their support. He had had to hand back the paperwork – including the passport bearing his fake identity of Mark Stone.
Lisa has found it difficult to come to terms with the feeling that she had no free will during her relationship with Kennedy. A "faceless backroom of cops" controlled his movements, deciding when he could go away with her, or which demonstrations they could go on. "I just have this feeling that someone else made all the decisions, and it was not me, and it was not even him."
A series of revelations has persuaded the home secretary Theresa May to order a public inquiry into the conduct of the police spies. This inquiry could reveal far more of the police's secrets when it starts to hear evidence in public next year. It is expected to examine how, for example, the undercover officers spied on the family of murdered teenager Stephen Lawrence and stole the identities of dead children.
Lisa does not want to pin too much hope on the inquiry uncovering the truth of Kennedy's espionage and his relationship with her. "There are so many more questions than answers in this whole thing that I don't think I am ever going to be in a position where I feel like I know what went on and what it all meant, and that there's nothing more to wonder about."
She asks herself how much he genuinely loved her. "It is an endless, endless question that I will always be wondering about. That will always keep me awake at night."
She has been left with a "crushing disappointment and sadness", feeling that her ability to trust others and form relationships has been shattered. "I have lost a lot of optimism about all kinds of things," she says. "Just the idea that the world is a good place, that love exists, that love is possible for me."
Related